What are reports?
The reports allow you to view a summary of the field or batch, for a certain period of time. They are ideal for sharing information quickly and professionally with management levels, contractors, clients, etc.
Auravant allows them to be created automatically by integrating all the information previously registered and stored in the platform/app, in the period of time that is of our interest, allowing it to be personalized, sent and downloaded quickly and in an orderly manner.
In this way it is possible to generate periodic reports on the state of the crops, as well as on the different tasks, maps, prescriptions and observations that have been recorded. In turn, it is possible to customize them using company logos and as well as edit them to add or modify the format and work only with the data that is of interest. Multiple batches can be chosen to report in the same action.
How to create a report?
1- Select a farm and a field.
2- Enter the "Reports" module on the left bar and within this menu click on "report".
3- Select the batches to report or select "all" for a complete summary of your field.
4- Choose the period of time you want to report.
5- Click on "Generate" to obtain a report.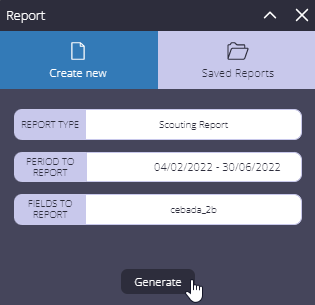 6- These reports can be edited from the saved reports section. Being able to add information, delete or add modules to it as well as add the logo of the entity that is generating the report.
7- Once you have chosen the sections you want to keep in the report, click on the printer icon to download it and that's it!
"