The integration between Auravant and John Deere Operations Center provides producers the ability to analyze, edit, and make collaborative decisions to achieve higher yields and reduce input costs by synchronizing field operation maps (application, harvesting, planting, and fertilization), prescriptions, and boundaries (fields) between the two platforms quickly and easily.
This integration is another step towards one of our main objectives, which is to streamline processes and save operational time.
Below, we will explain the step-by-step process of how to use this extension.
To begin, the user should click on the "Extensions" section, where the platform will take them to the Marketplace to download the Operations Center extension.
Once installed, the extension will be ready to be used in the "Analyse" section under "Resources." There, the user needs to click on the Operations Center logo to access their account.
Importing Field Operation Maps
To import field operation maps (application, planting, harvesting, and fertilization) from the Operations Center to the Auravant platform, you need to import a boundary or parcel first, and then import the registered maps within that parcel.
When clicking on "Import Parcels/Boundaries", you will see all the boundaries you have in your Operations Center account as follows:
Before clicking the "import" button, you can edit the name of the boundary, preview it (clicking on the eye icon), and associate it with a field/farm registered in Auravant.
Importing Field Operations
Once the boundary is imported, you will need to go to the "Import Field Operations" section, where you will have the possibility to import all the available field operation maps from your Operations Center account for that specific boundary. The synchronization of the maps will depend solely on their size, but it usually takes around 1 minute. Once the map is synchronized, the orange circle will change to green. To achieve this, you need to click on the refresh icon to update the synchronization status.
Some important clarifications:
The synchronized maps with Auravant will be saved on the platform even if you log out of the Operations Center.
They will be saved as a layer type.

These layers can be used to enhance other functionalities (prescriptions, etc.).
If you delete any synchronized map, it cannot be re-uploaded to the platform later.
Exporting Prescriptions
Once the prescriptions are generated using the "zoning" tool, by clicking on the "Export Prescriptions" button, you will be able to access all the prescriptions created in Auravant and export them to your "My John Deere" account.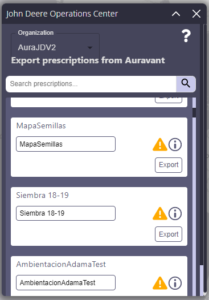 These prescriptions will be exported to the "Files" section of My John Deere. Once the prescription is exported, the user is allowed to import it again, indicating that it has already been exported at some point.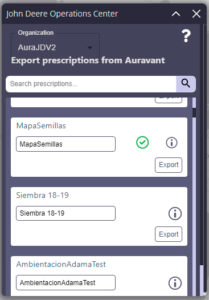 This generates a new record in My John Deere each time the prescription is exported again. In the "Files" view, you can see the exported prescriptions, and from there, you can directly send them to the platform.